Top five LGBTQIA+ friendly venues in Bangkok to celebrate pride month
The famously fun, vibrant and open-minded LGBTQIA+ scene makes Bangkok one of the most popular destinations to celebrate pride month. But not all venues are created equal so for those looking to celebrate love and the opportunity to lose themselves to late night liberations (and intoxication), here are the top five LGBTQIA+ friendly venues that the city of angel has to offer.
Lost & Found - A forgotten bolthole that shines brightly through creative intent
The opulent shelter that is now known as Lost & Found was once a secret underground venue that held banquets for noble elites. The space has since been renovated as a venue of self-expression and a space for freedom seekers where everyone has a place. Known for its eclectic themed parties, from a Gangubai-inspired event to an Abba-inspired Dancing Queen Ladies' Night, Lost & Found brings you some of the most creative and talented performers as well as a wide range of drinks and dishes. Think crispy squid, onion rings, river prawn skewer and slow-cooked spiced pork ribs. Whiskey, wine and cocktails are aplenty. What's more, throughout pride month, theme nights inspired by the greatest gay icons in music, including Lady Gaga and Madonna are hosted every Friday and Saturday night.
Location: Google Maps Tel. 02-431-9475
SEEN Restaurant & Bar - City elevation to sin and be seen
Located on the 26th floor of Avani+ Riverside Bangkok Hotel is an upscale and stylish rooftop bar and restaurant with unobstructed views of Bangkok's spectacular skyline and Chao Phraya River. With branches in Sao Paulo and Lisbon, SEEN Restaurant & Bar takes on modern art-deco design with an indoor and outdoor area. Celebrity chef Olivier da Costa leads the team of talented chefs and mixologists with his sensual creations. Don't miss the Iberico Pork Cheek and Alaskan King Crab Risotto. Drinks are equally exciting with mixologists stirring up all-time favourites such as Negroni, Old Fashioned and Mojito as well as signature cocktails like Leviathan (tequila, cognac, pandan juice and blue lime caviar) and Lucifer (Scotch Whisky, cinnamon, orange bitters and smoke). Live DJs take the stage and events are available weekly such as ladies' night every Thursday, mini concerts and pool parties. The latter is not to be missed; in fact, Pink Sunset Pride Pool Party, an LGBTQIA+ pool party, is happening on June 25 and features celebrity LGBTQIA+, voguing divas, DJs, and live performances from musicians and drag performers from Drag Race Thailand.
Location: Google Maps Tel. 02-431-9492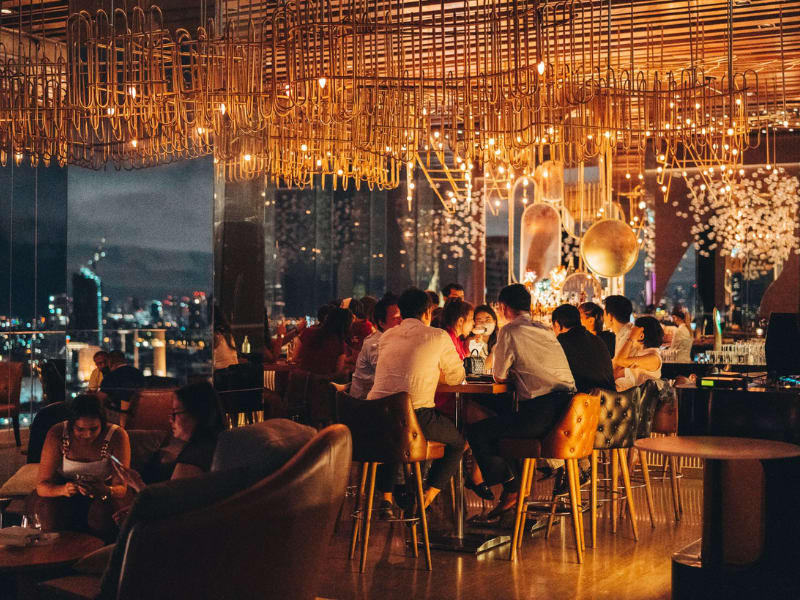 Sing Sing Theater – Sonic sorcery meets performing arts
The latest venue under the creative expression of Australian designer Ashley Sutton comes in the form of a nightclub and theatre. Step inside Sing Sing Theater and the distinctive décor from Sutton's fascination with the prohibition era and industrial design shines through with metalwork, lanterns and neon lights that resemble a Shanghai hotel lobby with cinematic and futuristic touches. The dance floor is the main attraction and is used to stage performances ranging from live music, DJ performances and Latin dances. Head to the balcony on the second floor to enjoy the show while sipping on cocktails and spirits. The music is a mix of house, hip hop and electronic bangers. Check their Facebook page for weekly events which span performances from international DJs to club takeovers and LGBTQIA+ events which the club has sponsored since its inception. Think the "Born This Way LGBT Night" and multiple parties including a collaboration with Bangkok's indie and queer music organiser Go Grrrls.
Location: Google Maps Tel. 063-225-1331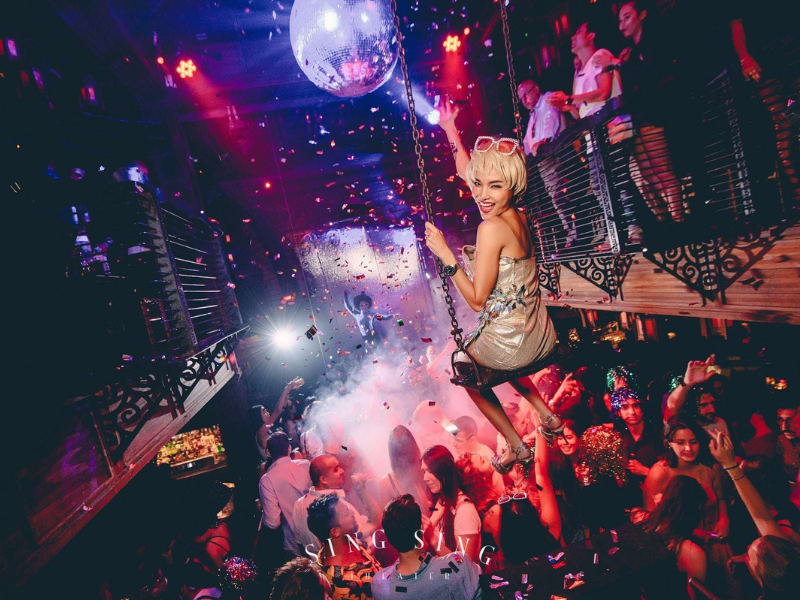 Photo credit: Sing Sing Theater
Mischa Cheap - A nonchalant escape that is peculiarly satisfying
Local indie party organizer Dudesweet, known for throwing some of the best underground parties Bangkok has ever seen for over 17 years, has opened a new bar in Khao San Road dubbed Mischa Cheap, inspired by the concept of city-building video games. With Dudesweet's entertainment background, visitors can expect lots of energy and intentionally random backdrops. Think of areas recreating a temple, a police station, a hospital, a museum and a beauty salon. The music selection is eclectic, with tunes ranging from Brit Rock favourites like Radiohead, mainstream sing-along such as Britney Spears and gay indie-pop icons such as Japanese Breakfast. Beer, whiskey, wine and cocktails are available, but the signature menus are not to be missed. The Gin & Tonic uses chrysanthemum gin from Thailand's famous bar, Teens of Thailand. The absinthe and Isaan rum and soda are just as good. Don't expect the place to be fancy though as it's quite quirky, random and upbeat, but that's what brings in casts of regulars and believe us when we tell you there are many of them.
Location: Google Maps Tel. 095-665-5636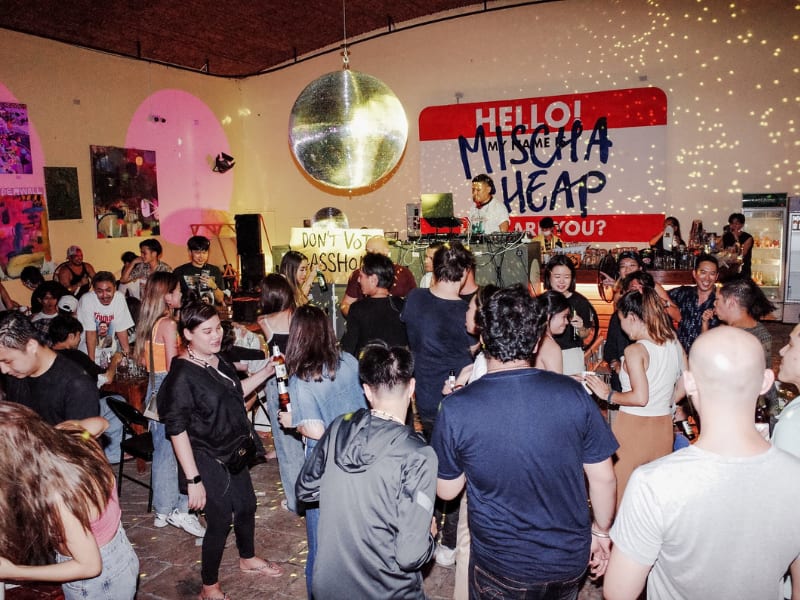 Photo credit: Mischa Cheap
The Stranger Bar - Mingle till you drop with eclectic cast of characters
Located on the famous Silom Soi 4, The Stranger Bar is the drag child of Irish drink enthusiast Sean Lestrange and LGBTQIA+ activist and Drag Race Thailand contestant, Chakgai Jermkwan, AKA M Stranger Fox. The stylish pub was inspired by the S&M kink of the Victorian era and utilises black walls and dimly lit red lights are its main design queues. Originally, the bar was a hangout spot for drag performers but thanks to the friendly crowd and lively atmosphere, quickly transformed into a straight-friendly, LGBTQIA+ venue. Drag shows are available nightly and DJs take the stage later in the evening. Thai spirits and cocktails are the poison of choice here and after a few drinks, don't be surprised if you become friends with the stranger next to your table.
Location: Google Maps Tel. 02-632-9425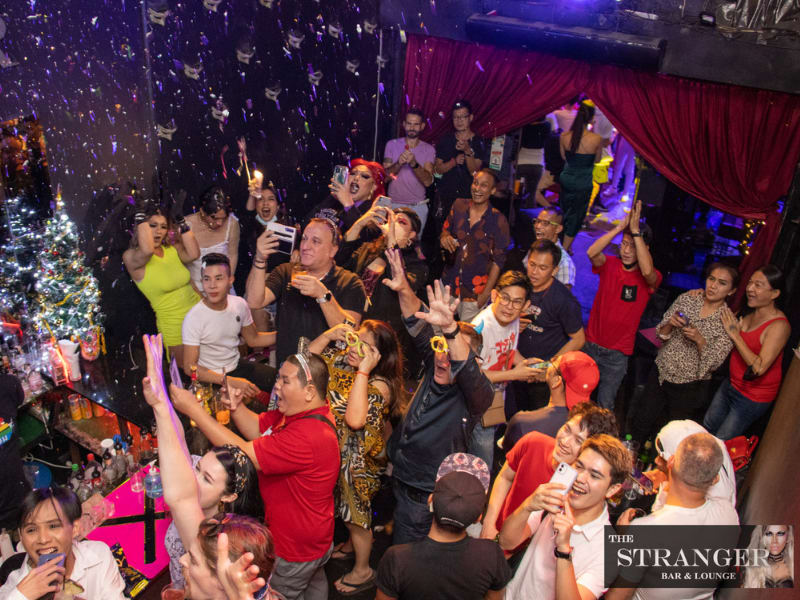 Photo credit: The Stranger Bar