Last week I told you about what it was like to host a German blogger in Lisbon and show her the best things in town. The experience was part of a partnership with the Avani chain of hotels which recently opened its first property in Lisbon, the Avani Avenida Liberdade Lisbon Hotel. As I mentioned at the time, Avani is a Thai brand, so the second part of this project took me to Bangkok to see the incredible Avani Riverside Bangkok Hotel. And it was quite something my friends!angkok Hotel. And it was quite something my friends!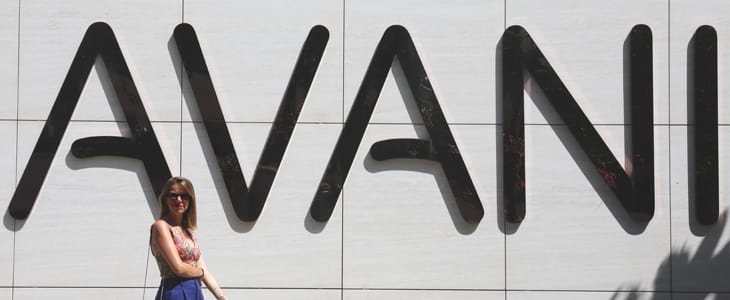 Thailand is a destination which has been on my list for some time. For one reason or another, I've had to put the trip off, but it was never forgotten. So, when this invitation came up, I think I did a little dance in my office. Like "I'm going to Thailand-oh-yeah-oh-yeah-oh-yeah". And I went. After two flights and one stopover, I arrived in Bangkok and, my good people I was met by a wall of heat. Really muggy, humid and I felt like pouring a bucket of ice over my head and I started to think about how I would last the week. But it was Thailand and I was ready to endure everything.

If I had already been extremely well impressed by the the Lisbon Avani, the Avani Riverside Bangkok Hotel simply bowled me over. Simply to die for, super sophisticated, directly overlooking the Chao Phraya River, with breath-taking views and an awesommmmme rooftop pool.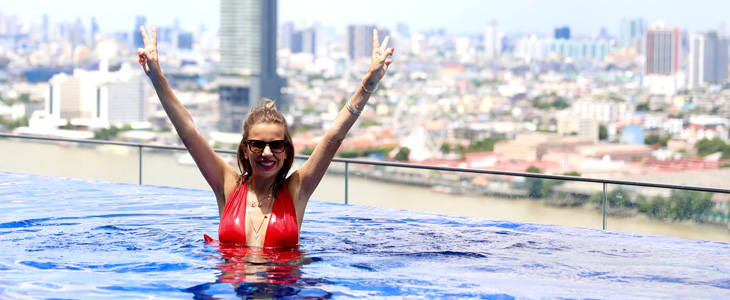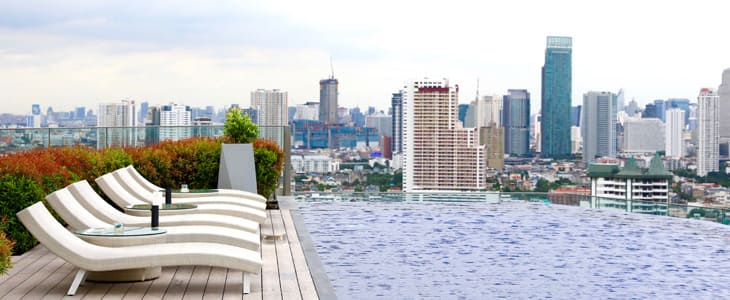 We were met in the lobby, on the 11th floor, which lies between a lounge and a restaurant. All the public areas are spacious, with beautiful lighting, and I felt like sitting down and not moving a muscle for quite a while, but in a city like Bangkok, sitting around is not something you do. My room was superb as well, with views of the river and city. Ahhhhhhh, I want to go back!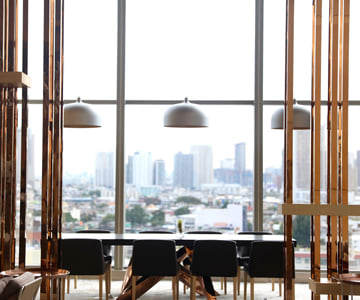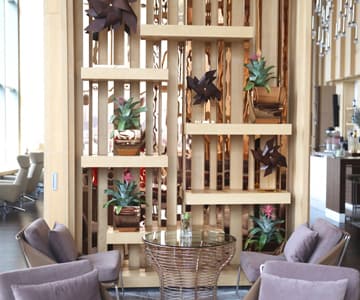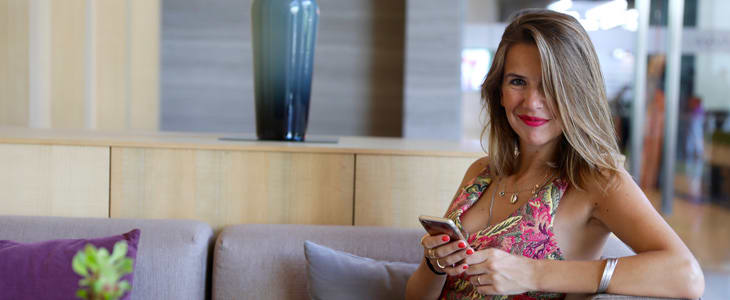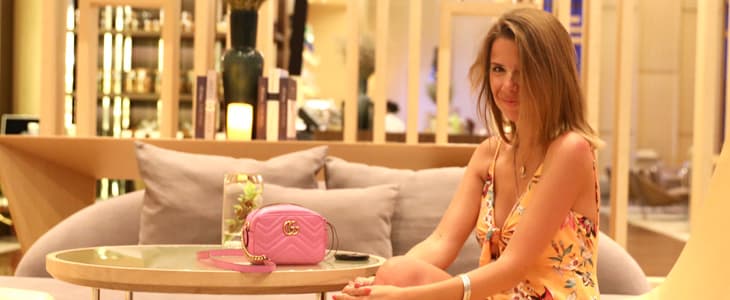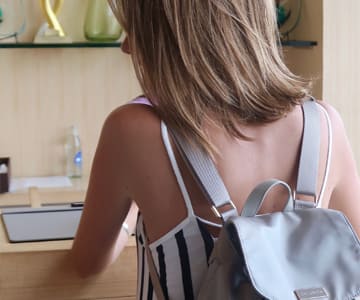 Check in
On the first night, dinner was at Attitude, the bar-restaurant sitting on the rooftop of the hotel on the 26th floor. The bartender poured me a Temptation, gin with passion fruit, peach and pineapple juice, which turned out to be the eighth wonder of the world. Sipping on a gin in a balmy 30º at night felt like I was living.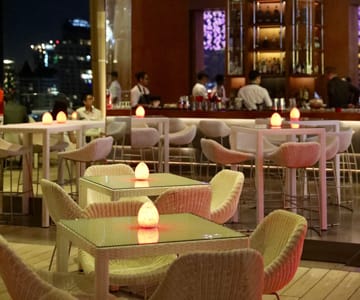 Attitude Rooftop Bar & Restaurant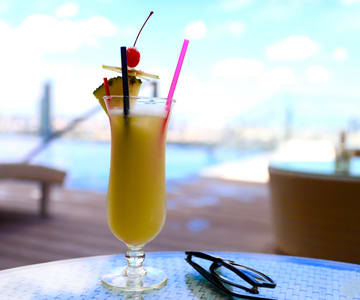 Temptation
Dinner was lots of different Thai specialities. All wonderful.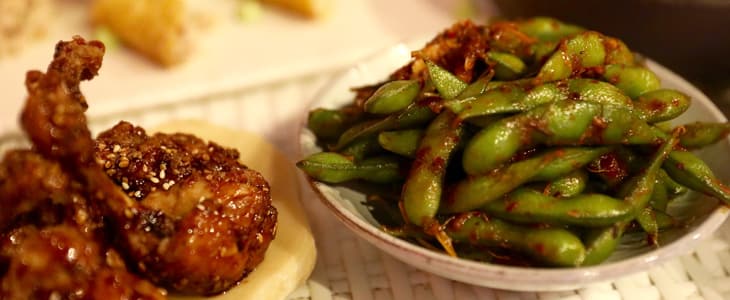 As we wanted to max our time, after dinner we caught the hotel boat, crossed the river and walked to one of the many nighttime markets. Thais are market kings and with that non-stop heat, it feels good to stroll in the evening air.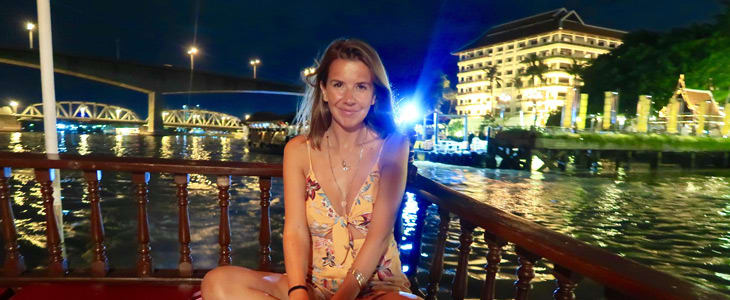 Ferry crossing
In the four days we were in Bangkok, we tried just about all the hotel's services. We had a rooftop yoga lesson at 7:00 am. It was already wilting hot and what I thought was going to be light workout turned out to be a workshop for contortionists, advanced level. I should have guessed that orientals wouldn't mess around when it comes to yoga, and if you're going to do it, then you're going to do it properly. Tough to keep up but an experience to remember.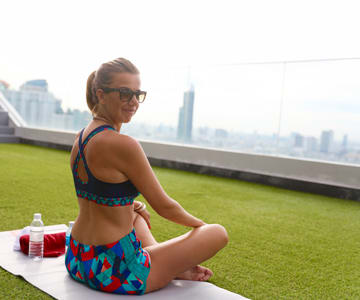 Rooftop Yoga
In way of compensation, the next day I treated myself to a massage at the AVANISPA, because going to Thailand and not getting a massage is like going to Rome and not seeing the Pope. I left floating on air.

Although we ate in different places around town, breakfast was always in the hotel, in the Skyline Restaurant. If I played it safe on the first day choosing European, after that I though I'd better "eat like a local" so I jumped in with some sushi, noodles, dim sum and some other weird stuff at eight o'clock in the morning. It was interesting (and very impressive) that the hotel has a hydroponic farm which supplies lettuce and other different vegetables for the restaurant.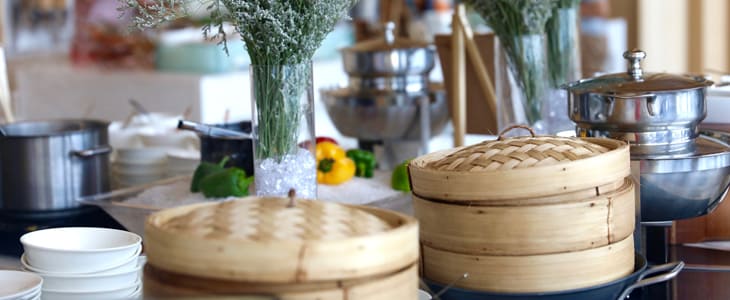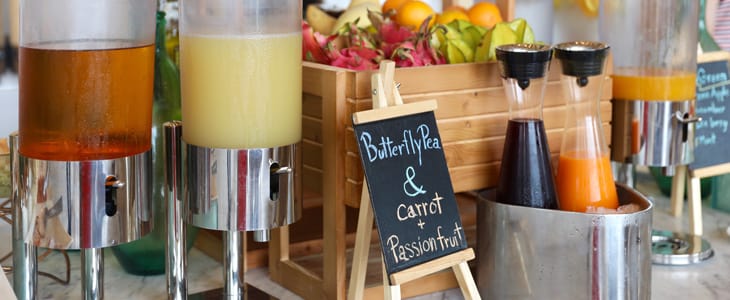 On the other days we crammed in the sights around town. Avani Riverside is central with different transport options close by, so getting round was easy. The hotel suggested a whole bunch of alternative programmes to get of the traditional tourist track, but we ended up doing a mix of those just-simply-cannot be-missed sights on a first visit to Bangkok with other more out of the box choices. In the middle I dedicated all my free time to that infinity pool. I want to go backkkkkkkkk!
Over the next few days I'll be telling you more about my trip to Thailand - which also took in Phuket and the Phi Phi islands. A word of thanks to Avani for letting me enjoy this experience. It was, seriously, one of the best in my life. Thank you for all your attention and friendliness, for welcoming us so well, for all the tips you gave us about the city. I don't have the slightest doubt that it's a destination to go back to. As is Avani RiversideJ
Read more about Ana's trip to Bangkok here
Join the conversation on Instagram and Facebook