Akheel's Gold Coast Favourites
Learn about some fabulous spots along Australia's Gold Coast from Akheel Mavjee, as he tells us about his favourite places.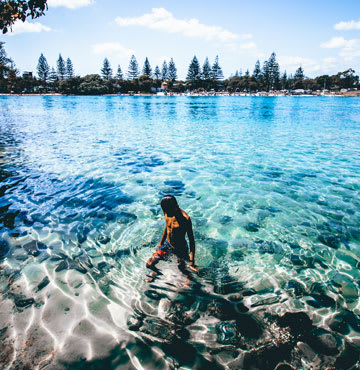 Avani Broadbeach Gold Coast Residences asked blogger Akheel Mavjee to tell us about his favourite spots in Broadbeach

To choose my favourite place to hang out is really a hard one. It depends on whether I'm just hanging out with my mates or I'm on my own taking photos.

If I'm with my mates, I would have to say Broadbeach, only 20 minutes from where I live. During our school holidays, if the surf forecast looked good, then one of our parents would drop us off at the tram station and we would head to Kurrawa in Broadbeach for an early morning surf.

It's such an awesome place to hang out with friends, everything is so close by. We would often walk over to Pacific Fair to visit some of my favourite stores or catch a movie at Event Cinemas.

For lunch, we walk back for teppanyaki at Murasaki on Surf Parade. They have such great lunch specials!

Broadbeach is also a special place for me because it's where I started my photography business at 14, at the Broadbeach Arts and Craft market. You can find me there on the 1st or 3rd Sunday of the month.

When I'm keen to take photos, I'd say my favourite spot would be Kirra Hill. The view is amazing, and you can see the entire coastline from North to South. When the surf is pumping, it's the best place for amazing photos.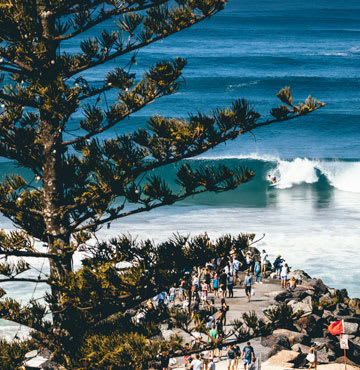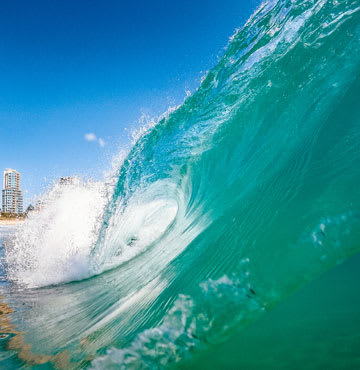 For sure, my favourite spot to surf/shoot surf is Billinga Beach. It's super quiet and very chill. When the surf conditions are right, the shore break is next level. I have had so many amazing sessions there with all my mates.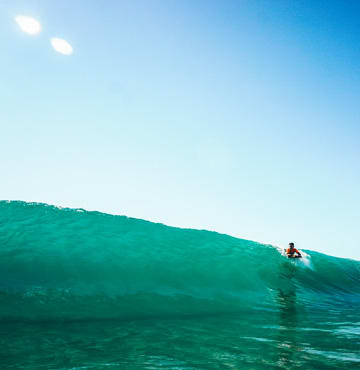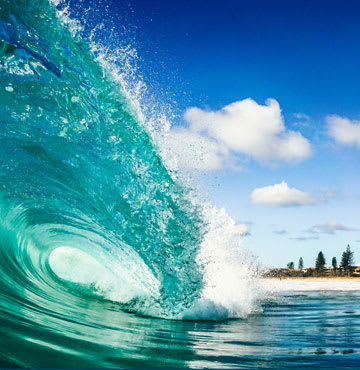 My favourite spot to shoot on the Gold Coast would definitely be around Burleigh Heads and Tally Creek. You can find so many hidden places to shoot around there, and the water clarity is always amazing. I have managed to capture some very special photos there that are some of my most popular on Instagram.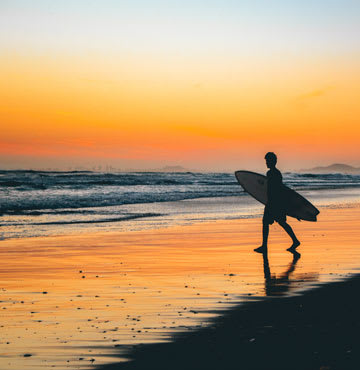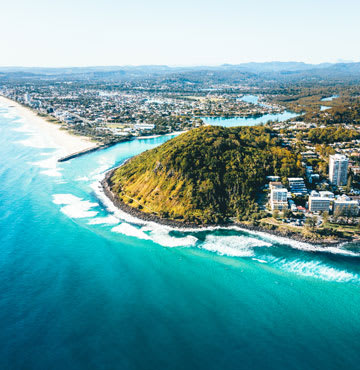 Follow me on Instagram, Youtube and Website.
Pre-arrival Travel Tips to Gold Coast, Australia

What is the currency in Australia?
AUD or Australia Dollar – it is both AUD or Australian Dollar, AUD is the acronym for Australian Dollar

When is the best time to visit Gold Coast in Australia?
With an average of 300 sunny days per year, the Gold Coast is unlike many other major destinations in the country who often see spikes of hot and cold, wet and dry seasons throughout the year.
April to May - after the Easter holidays, offers the best conditions for a holiday because of its consistently sunny temperatures, less humidity and lower rainfall.

Do I need a visa for Australia?
Unless you are an Australian or New Zealand citizen, you will need a valid Australian visa to enter the country. All other passport holders must apply for a visa before leaving home. You can apply for a range of visas, including tourist visas and working holiday visas, at your nearest Australian Embassy or Consulate. https://www.australia.com/en/facts-and-planning/visa-customs-quarantine-faq.html

How to get to Gold Coast of Queensland Australia?
Flight
Gold Coast Airport IATA code: OOL ICAO code: YBCG. The terminal opens at 4:30am and closes after the last flight which is usually no later than 11.00pm. The airport is closed through the night and it's not possible to sleep at the airport overnight.

Train
The only train that runs direct to the Gold Coast is from Brisbane.
Bus
There are many long-distance bus services which come to the Gold Coast from Cairns, Melbourne, Sydney and Brisbane.

How to go from Gold Coast airport to city?
Skybus - The SkyBus Gold Coast Airport Shuttle is a dedicated service connecting the Gold Coast Airport to Gold Coast's most popular tourist locations. The Gold Coast Airport Shuttle services all flights, 7 days a week from Burleigh Heads, Broadbeach, Surfers, Southport up to Runaway Bay.
Bus, trains & trams - TransLink's integrated network on the Gold Coast includes the G:link trams, Surfside Buslines and Queensland Rail.
Taxi - A taxi stand is conveniently located at the southern end of the terminal, outside the domestic arrivals area.
https://goldcoastairport.com.au/parking-transport/transport/

Where to stay in Gold Coast?
Avani Broadbeach Gold Coast Residences offers a home away from home with top-of-the-line mod cons and comforts. All apartments feature fully equipped kitchens and private balcony's with the views up and down the coast of either the Gold Coast high rises or surf. Trust us, it's all very worthy of an Instagram post! Broadbeach is a location long favoured by locals for its 17 km stretch of beach, epic surf, and upscale dining and entertainment options. A few minutes' walk from the G:link tram that takes you up and down the coast, to Surfers Paradise, Southport and beyond.

Check special offers at Avani Broadbeach Gold Coast Residences.

How to get around in Gold Coast?
Bus
There is a large network of bus routes for use across the Gold Coast. From Southport on the Northern end of the coast these routes stretch to the very South of the Coast at Coollangatta. This is an easy and cost-effective way for getting around the coast. All routes, details, costs and even a journey planner can be found at: https://translink.com.au/gold-coast. This site will also be able to provide you with details for train times and tram times.
Tram
As it happens, the Gold Coast is home to the only trams in the world that have surfboard holders. So why not put them to use? The Gold Coast has some fantastic beaches, and the G: can link you to several. Pick any station in Surfers Paradise or Broadbeach and head east, and you're bound to find a stretch of sand with your name on it. From Broadbeach South through to Helensvale at the Northern end of the Coast, the G: Link is an easy and convenient way to explore the best parts of the Gold Coast. There is a top a short 200-meter stroll from the front door of Avani Broadbeach Gold Coast Residences.
Taxi
Gold Coast Cabs services the entire Gold Coast region and can be hailed on the street, at any number of cab ranks or reception would be more than happy to call one for you. They have an easy to use app which you can download for either iPhone or and Android device, and you can even book from a desktop computer.
Visit http://www.gccabs.com.au for more information or ask our friendly reception staff.
https://www.destinationgoldcoast.com/getting-around
How to get mobile data or Internet connection in Australia?
You can opt for a pre-paid sim card or mobile wifi modem.
http://www.pocwifi.com/Page_New/Index.aspx
https://www.optus.com.au/shop/mobilebroadband/prepaid

Other Gold Coast Travel Information
Alcohol: The legal drinking age in Australia is 18 years of age. It is best to always have valid ID on you to prove you age. A passport is going to be accepted at all establishments. Alcohol is currently not available for purchase in supermarkets in Queensland. It can be purchased at liquor outlets (also referred to as Bottle Shops) and hotels, bars, pubs and clubs.
Emergency: In the event of an emergency Dial 000 from a fixed line or 112 from a mobile phone. This number will take you to Police, the Fire Department as well as Ambulances/Paramedics.
Smoking: Queensland and Australia have very strict tobacco laws with new legislation regularly phased in. When inside buildings, and within 4 meters of buildings entry way, there is no smoking permitted. You must be 18 years or older to purchase tobacco products. years.
Sun/Surf Safety: Australian beaches are beautiful and it's important to never underestimate the power of the open ocean. Beaches are regularly patrolled by Surf Lifesavers (look out for anyone wearing red and yellow). When you do visit the beach, make sure you always swim between the red and yellow flags and follow all life guards' advice. Gold Coast beaches are patrolled by professional life guards and volunteers (weekends).
Time zone: Eastern Standard Time (EST): GMT + 10 hours. There is no daylight saving in Queensland.
Gold Coast Tourism Visitor Information centres: Call toll free on 1300 309 440 or international +61 7 5536 4709
Useful Australian phrases
G'Day Mate – Hello!
How ya going? – How are you?
Arvo – Afternoon
Hooroo – Goodbye
Crikey! - This word is an interjection or exclamation.
Ace! – Excellent! Very good!
Tucker – Food
Barbie or BBQ – Barbecue (noun)
Rage – Party
Amber fluid – Beer
Roadie – A beer or beverage you buy to take away with you
Goon – Wine
Boomer – A large male kangaroo
Joey – Baby kangaroo
No worries, mate! — Not a problem, friend!
The Bottle-o — Shop that sells beer and wine.
Maccas — McDonalds.
Drongo — fool, silly person.
Fair dinkum — Honest, genuine.
Stubby cooler — used to keep your drink cool in hot Aussie climate!
Things to do in Gold Coast
Sea World
Warner Brothers Movie World
Australian Outback Spectacular
Dreamworld
Currumbin Wildlife Sanctuary
Sightseeing cruise
Skypoint Observation Deck
Pick-up surfing lesson
Springbrook National Park
WhiteWater World
Wet 'n' Wild
The Star Casino Gold Coast
Glow-Worm Caves Tamborine Mountain
Surfers Paradise