Our first stop in Thailand is Hua Hin, a seaside town and famed as a summer holiday destination for the Thai royal family.
There is quite a lot to sightsee and visit, aside from holidaying at the newly opened Avani Hua Hin Resort & Villas.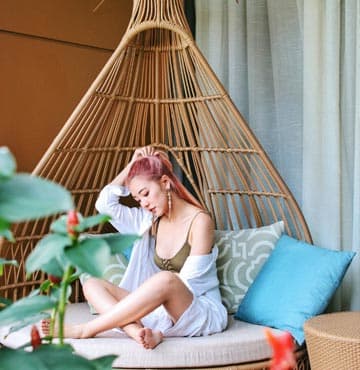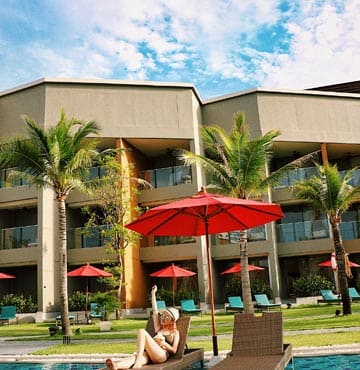 I recommend to starting at Hua Hin Train Station, built during the reign of King Rama VI back when there was no road access to the town and a train or boat was the only two travel options. The station is brightly coloured Thai architecture that makes you feel like royalty as you arrive.
After, instead of traveling to a Greek island, you can visit Santorini Park in Cha-Am. The classic whitewashed buildings, colourfully painted windows, and quaint cobblestone paths along with beautiful gardens create the perfect setting for photogenic moments.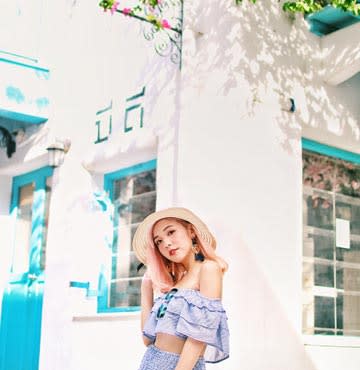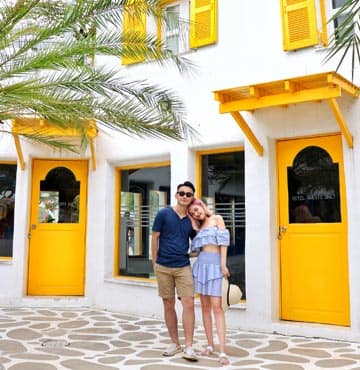 Last but not least, is a stop to Mrigadayavan Palace, a seaside summer palace for His Majesty King Vajiravudh. Set in a beautiful garden with statuesque trees and stunning sea views, it's a series of 18 interlinked teak buildings with tall, shuttered windows and patterned fretwork built upon stilts.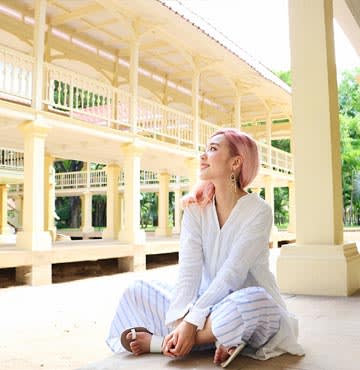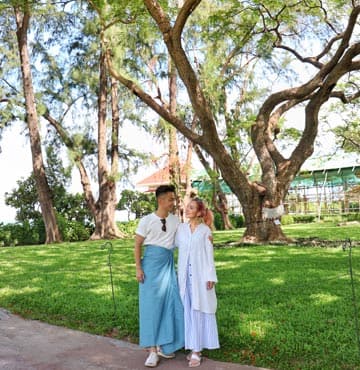 Follow me on Instagram and Youtube
Pre-arrival Travel Tips to Hua Hin, Thailand

What is the currency in Thailand?
THB or Thai Baht

When is the best time to visit Hua Hin in Thailand?
The hot season is from the middle of February to the middle of May, with April being the hottest month. Interesting places to visit during this period are beaches and islands in the South and the East of Thailand.
The wet or rainy season starts from the middle of May to the middle of October, when rain will become less frequent and the weather in upper Thailand, especially the North and the Northeast, will get cooler, while rain in the South will continue until December. Popular activities during this time of the year include visiting hills and mountains and enjoying scenery of rice terraces in the North, which will look different from the cool season.
The cool season is from the middle of October to the middle of February. The temperature can get really cool in Northern and Northeastern Thailand in this period, especially on high hills and mountains, where tourists can experience the beauty of sea of mists and winter flowers.

Do I need a visa for Thailand
A passport is an important official document that serves as an identity card when you visit a foreign country. For Thailand visa, The Ministry of Foreign Affairs has issued a new visa policy of Thailand, in which the fee for a visa on arrival is increased from 1,000 THB to 2,000 THB since 27 September 2016 onwards.
Passport holders of the following 18 countries and one special economic zone (Taiwan) are granted a visa on arrival entry to the Kingdom of Thailand. https://www.tourismthailand.org/About-Thailand/Passport-Visa

How to get to Hua Hin, Thailand?
Airport
Suvarnabhumi Airport (RTGS: Suwannaphum, (IATA: BKK, ICAO: VTBS is one of two international airports serving Bangkok, Thailand. The other is Don Mueang International Airport, (IATA: DMK, ICAO: VTBD) (aka Bangkok International Airport).
Hua Hin Airport (IATA: HHQ, ICAO: VTPH) is an airport serving Hua Hin, a town in the Prachuap Khiri Khan Province of Thailand. https://www.tourismthailand.org/About-Thailand/Thailand-airport

How to go from Bangkok to Hua Hin?
Hua Hin is an easy 2.5-hour drive from downtown Bangkok.
Train – takes about 4 hours from Bangkok Hua Lamphong station to Hua Hin. Check schedules at http://www.railway.co.th.
Book a private car.

Where to stay in Hua Hin?
Make a dash for sun-filled days of tropical bliss at Avani Hua Hin Resort & Villas. Choose your digs, from pool access suites so you can hop right into the water, to Jacuzzi hideouts, to a prime-position beachfront pool villa. Run wild on long stretches of silky sand. Take a night out on the town, snacking on street eats as you go. Recharge surfing the waves or just chilling in the sea breeze with a mojito in hand, at this beachfront hotel. Hua Hin tropical getaways couldn't get much better than this.
Check special offers at Avani Hua Hin Resort & Villas

How to get mobile data or Internet connection in Thailand?
You can opt for a pre-paid sim card or mobile wifi modem, available at the airport arrival counters.
Useful Thai phrases
How are you? - Sa-wat dee
Thank you – Khob khun khab (male) / Khob khun kha (female)
You're welcome/never mind – Mei pei lai
Delicious – A roi

Things to do in Hua Hin

KOH TALU SNORKELLING & DIVING
A 2.5-hour drive from Hua Hin followed by a 15-minute speedboat trip to Koh Sing to observe beautiful coral reefs and fish. Koh Talu ("the island with the hole") provides a vibrant underwater world for snorkellers and divers.

BLACK MOUNTAIN WAKEBOARD PARK
Dedicated to the high-speed thrills of wakeboarding, this water park provides great opportunities for riders to practice and show off their skills. A cable system pulls wakeboarders at 30 kmph along an 800 m long area that features two jumps and two sliders.

HUA HIN HILLS VINEYARD
Sample well-known Thai wines from Hua Hin's first boutique vineyard. Built on a former elephant corral, the terrain is comprised of mostly loamy-sand and slate – which is ideal for the cultivation of grapes.

ELEPHANT SAFARI
Set out on an elephant trek along jungle paths and across the river. Relax with scenic views of Hua Hin and the surrounding mountains. See Thai village life, a pineapple farm and traditional Thai handicrafts.

KITESURFING
Hua Hin's year-round winds, shallow waters, and pristine wide sandy beaches provide the ultimate conditions for kitesurfing – whether you are a first-timer wanting lessons to pick up the basics or a pro eager to practice your skills.

Sightseeing
PA LA-U WATERFALL
60 km from Hua Hin, Pa La-U features two falls – large and small. Admire their cascade down 11 tiers of rock. If time permits, visit the Karen ethnic minority tribe who reside in Pa La-U Forest.

CICADA MARKET
Integrating culture, contemporary arts and lifestyle, Cicada Market features stalls displaying handmade decorative items, fashionable clothes and secondhand wares, and is also a hub for creative activities, workshops, exhibitions and performances – from dance, music and fine arts to community theatre.

PLEARN WARN
A charming reminder of yesteryear, this 60s Thai-style complex features a guesthouse, shops and dining outlets, and is most famous for its open-air movies, live music and temple fairs.

HUAY MONGKOL TEMPLE
This Buddhist temple is home to a Big Buddha statue that was commissioned by Queen Sirikit. It also houses the world's largest statue of the legendary Thai monk Luang Por Tuad, who is revered for his enlightenment and ability to perform miracles.

MARUEKHATHAIYAWAN PALACE
This summer seaside palace was built using golden teak in the early 1920s during the reign of King Rama VI. Designed by an Italian architect, three buildings are supported by more than 1,000 pillars and feature verandas, latticework and covered boardwalks, as well as a beautiful passage leading to the sea.