Primary content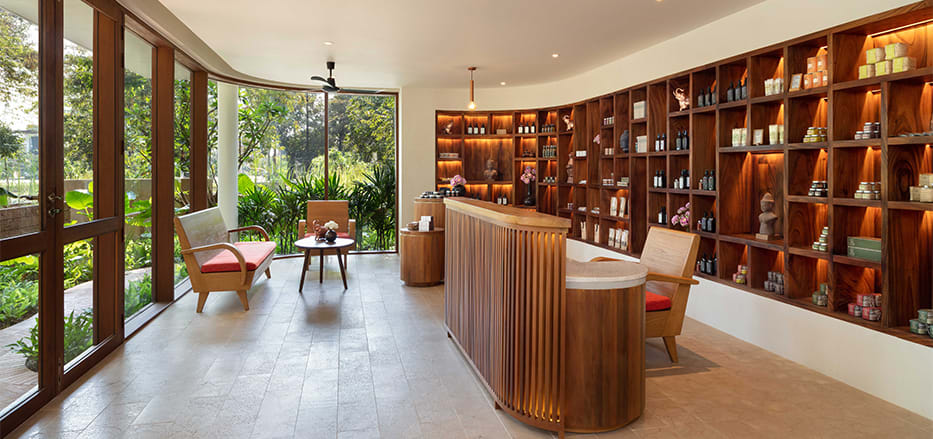 Reconnect with your inner self at our secluded Siem Reap spa. Let local wellness rituals and indigenous ingredients restore harmony between body, mind and soul. Feel the therapeutic touch of ancient Khmer traditions. Embrace spirituality and embark on a journey of reawakening in a blissful tropical setting. Emerge full of wonder and vibrant energy.
BOOK YOUR TREATMENT
Download Brochure
Visaya Spa Signature Experiences
Drawing on world-class spa expertise, indigenous wellness traditions and unique holistic therapies, our specialist rituals offer a collection of personalized treatments tailor-made to suit your individual needs.
VISAYA SIGNATURE MASSAGE
Revered eastern and western massage techniques, combined with a signature oil blend, stimulate the circulation, promote deep relaxation and restore energy flow for supreme wellbeing.

TRADITIONAL KHMER MASSAGE
The ancestor of the traditional Thai massage, the rigorous stretching and body alignment of Khmer Massage was created to revitalise monks after long periods of meditation. This unique massage draws on the body's ability to moisturise itself and uses no oil. The Khmer massage offers a wealth of holistic benefits, including enhanced flexibility, a freer flow of energy and circulation for a relaxing balance between body, mind and spirit.
THINGS TO KNOW
To maximise the benefits of your spa experience, please arrive at least 15 minutes before your treatment time.
Our spa team will gladly advise you on which treatments best suit your needs. We will ask that you complete our spa consultation form so that we can make appropriate recommendations.
For valuable belongings, a locked drawer is provided in your spa treatment room.
While every effort will be taken to provide you with your full treatment time reserved, should you arrive late for your appointment, the treatment time may be reduced or rescheduled depending on availability. We appreciate your understanding.
If you would like to cancel your appointment, please kindly do so at least four hours prior to your treatment time to avoid a 50% penalty charge.
The spa environment is one of tranquillity and relaxation for all of our guests. It is our mission to ensure that you, as well as our other customers, reap the benefits of this peacefulness.For the courtesy of our guests, mobile phone use is prohibited within the spa premises. We kindly request that the use of mobile phones is avoided and devices are switched off when in the spa.
Advance booking for spa services is highly recommended to ensure availability.