Primary content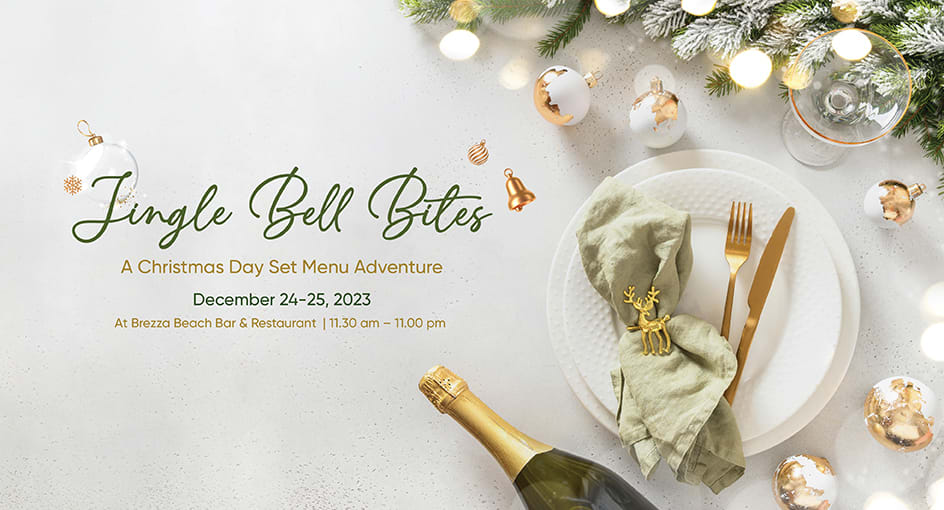 Jingle Bell Bites
A Christmas Day Set Menu Adventure
Discover the Hidden Charms of Santa's Beachside Food Stall Magic.
At Brezza Beach Bar & Restaurant, you'll indulge in a scrumptious BBQ feast right by the sea. Imagine the waves crashing, and the tantalizing aroma of Santa's secret recipe grilling away.
Discover an extended range of mouthwatering grilled meats, featuring the likes of smoky ribs, pork belly skewers, and from fresh seafood on ice to expertly grilled selections, including seared sea bass, grilled octopus, and a host of other delectable offerings.

And that's not all! Enjoy carol singing to fill the air with the sounds of the season, an acoustic duo that'll set the perfect musical backdrop, and a visit from Santa Claus to make your Christmas dreams come true.
December 24 - 25, 2023
At Brezza Beach Bar & Restaurant from 11.30 am – 11.00 pm
Indulge in a mouthwatering 4-course meal, carefully crafted to capture the essence of the holiday season. From savory appetizers to sweet treats, our menu is a celebration of flavors and festivity.
December 24, 2023
At Brezza Beach Bar & Restaurant from 6.30 pm – 10.30 pm
Santa's Secret Recipe. Discover the Hidden Charms of Santa's Beachside Food Stall Magic
Entertainment: Carol signing, Acoustic Duo and Santa
Avani+ Hua Hin Resort
196 rooms, suites and pool villas
AvaniClub benefits
Oceanfront dining
Southeast Asia's first VLCC wellness and beauty clinic
Hua Hin's largest hotel ballroom
2-3 hours from Bangkok
Terms And Conditions
All above prices are inclusive of government tax and 10% service charge
For more information and reservations, please contact +66 (0) 3289 8989 or email fb.vhhv@avanihotels.com