Primary content
Avani Travel Diary - Bangkok by Coundsheck's Journey
There is something about the Chao Phraya River that has always fascinated me. Many of these riverside communities have remained unchanged from the days of my childhood and make me feel nostalgic. Don't miss the chance to explore these serene areas after marvelling at the hustle and bustle of downtown Bangkok.
Our tour starts at Wat Prayoonwongsawat temple near the Memorial Bridge. A rare example of minimalist architecture in a city dominated by heavily adorned, gold-plated pagodas, this modern-style, all-white temple will change how you see the city's religious architecture.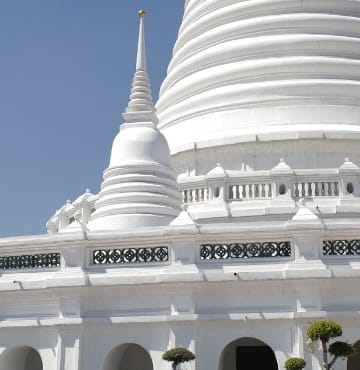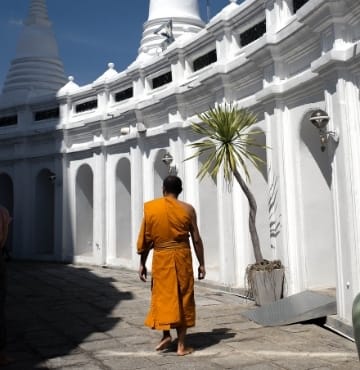 Next stop is the Pak Khlong Talat — one of the oldest flower markets in Bangkok. In a sea of jasmine, marigolds, roses and carnations, you'll come across flowers so exotic, they look straight from nature documentary series. Challenge your creativity at a flower arrangement workshop run by the Last Minute Flower Shop (you get to keep your fragrant creation).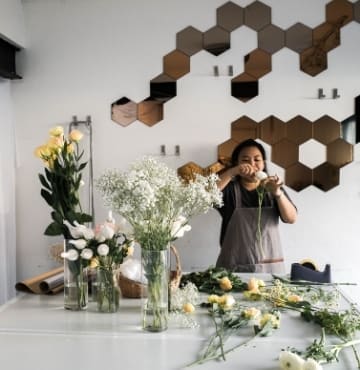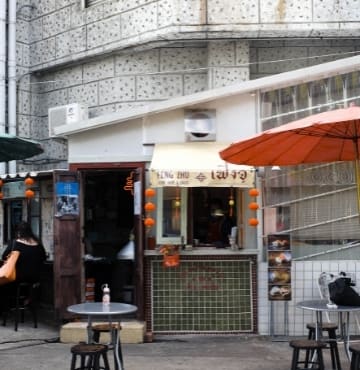 Feeling peckish? Head to Feng Zhu – a hole-in-the-wall dumpling shop located near Si Phraya Pier in Chinatown. Try Sichuan pepper and Thai northern-style curry dumplings with a variety of toppings: salty egg, melted cheese, Japanese tobiko or spring onion.
For sundowners with panoramic river views, you can't beat SEEN, the art décor-inspired rooftop bar on the 26th floor of Avani+ Riverside Bangkok. Aim to get there by 6pm to get the best seat in the house, but don't be surprised if your party ends up staying for dinner. SEEN's bold cuisine, delicious drinks and stunning setting will make you want to linger.
Pre-travel guide for Bangkok, Thailand
Currency
Best time to visit Bangkok, Thailand
Between November and February Bangkok enjoys the "cool" season when the heat and humidity are at their lowest. This is a good time to visit if you enjoy long walks and exploring on foot.
How to get to Bangkok, Thailand
Flight -

Suvarnabhumi Airport (IATA: BKK) and Don Mueang International Airport (IATA: DMK) are the two international airports serving Bangkok. They are linked by free shuttle buses and can be reached from central Bangkok by various modes of transport.

Train -

The four main rail lines are all anchored at the historic Hualamphong Station near Chinatown in downtown Bangkok. For timetables, fares and online bookings, please visit http://www.railway.co.th.

Bus -

Tickets can be purchased directly at Bangkok's three public bus terminals. Each of these long-haul bus terminals serves a different direction.
How to get around Bangkok
The best way to get around Bangkok is by Skytrain (BTS) or metro, which is fast, affordable and easily navigable for visitors. Taxis and raid-hailing options are fairly cheap but gridlock is a regular issue. Ferries crisscrossing the Chao Phraya river and the Khlong Saen Saep boat service — a water bus through the city's commercial districts — are also popular.
Helpful local words
Hello - Sawadee khrup (for male) / Sawadee ka (for female)
Thank you – Khop Khun Khrup (for male) / Khop Khun Ka (for female)
Yes – Chai
No – Mai
Delicious – Aroy Mak Mak
Where to stay in Bangkok
Avani Atrium Bangkok Hotel
is nestled in the heart of the city with easy access to parks, shopping and dining, as well as an expressway access to and from airports, Pattaya and other parts of the city. The stylish hotel is also home to Benihana, the iconic Japanese steakhouse.
Check the
best hotel deals in Bangkok
.