Primary content
Avani Travel Diary - Gold Coast, Australia
My favourite spot to hang out with my mates is Broadbeach. During our school holidays, if the surf forecast looked good, one of our parents would drop us off at the tram station and we would head to Kurrawa in Broadbeach for an early morning surf. It's such an awesome place to hang out with friends, everything is so close by. We would often walk over to Pacific Fair to visit some of my favourite stores or catch a movie at Event Cinemas. For lunch, we walk back for teppanyaki at Murasaki on Surf Parade. They have such great lunch specials!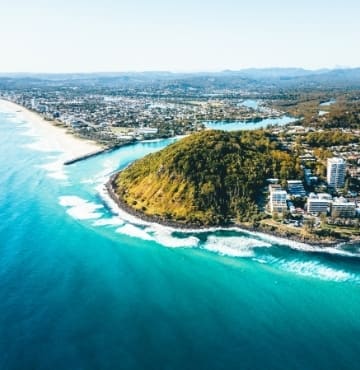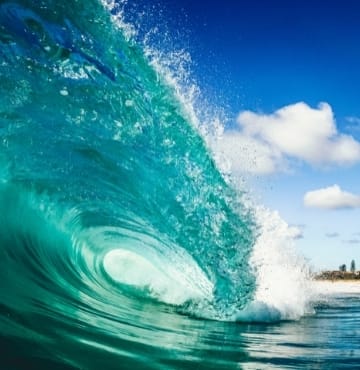 Broadbeach is also a special place for me because it's where I started my photography business at 14, at the Broadbeach Arts and Craft market. You can find me there on the 1st or 3rd Sunday of the month.
If I'm on my own taking photos, my favourite spot would be Kirra Hill. The view is amazing, and you can see the entire coastline from north to south. When the surf is pumping, it's the best place for amazing photos. My favourite spot to surf/shoot surf here is Billinga Beach. It's super quiet and very chill. When the surf conditions are right, the shore break is next level. I have had so many amazing sessions there with all my mates.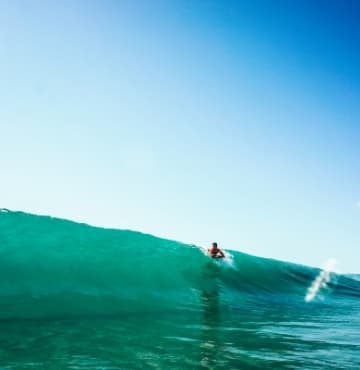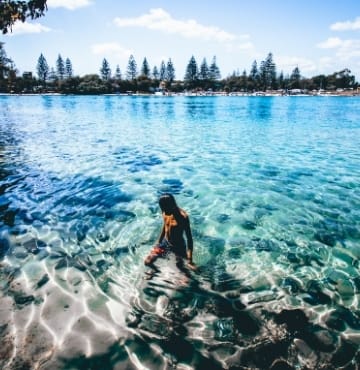 For photography, Burleigh Heads and Tally Creek are hard to beat. You can find so many hidden places to shoot around there, and the water clarity is always amazing. I have managed to capture some very special photos there that are also among my most popular on Instagram.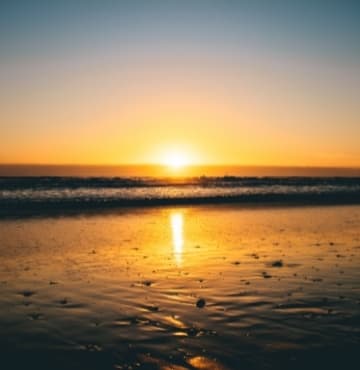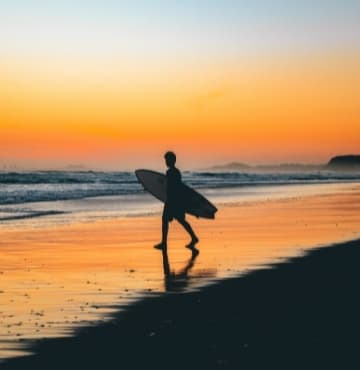 Pre-travel guide for Gold Coast, Australia
Currency
Best time to visit Golf Coast, Australia
Thanks to its subtropical climate, Gold Coast is a year-round destination. The peak tourist seasons are June to August with their cool nights and excellent whale watching, and September to October when conditions are perfect for kite-boarding and windsurfing.

December to February is the peak of the Australian summer and the best time to enjoy the sun, sand, surf and the waterparks.

Between March and May, many pro surfers come to Gold Coast to catch the excellent surf. This is also a great time for fishing, golfing, hot air ballooning and nature walks through the rainforests and hinterlands.
How to get to Gold Coast of Queensland Australia?
Flight - Gold Coast Airport IATA code: OOL ICAO code: YBCG. The terminal opens at 4:30am and closes after the last flight which is usually no later than 11.00pm. The airport is closed through the night and it's not possible to sleep at the airport overnight.
Train - The only train that runs direct to the Gold Coast is from Brisbane.
Bus - There are many long-distance bus services which come to the Gold Coast from Cairns, Melbourne, Sydney and Brisbane.
How to get around Gold Coast
Bus - There is a large network of bus routes for use across the Gold Coast. From Southport on the Northern end of the coast these routes stretch to the very south of the coast at Coollangatta. This is an easy and cost-effective way for getting around. All routes, details, costs and a journey planner can be found at: https://translink.com.au/gold-coast.
Tram - As it happens, the Gold Coast is home to the only trams in the world that have surfboard holders. So why not put them to use? The Gold Coast has some fantastic beaches, and the G: can link you to several. Pick any station in Surfers Paradise or Broadbeach and head east, and you're bound to find a stretch of sand with your name on it. From Broadbeach South through to Helensvale at the Northern end of the coast, the G: Link is an easy and convenient way to explore the best parts of the Gold Coast. There is a stop a short 200-meter stroll from the front door of Avani Broadbeach Gold Coast Residences.

Taxi - Gold Coast Cabs services the entire Gold Coast region and can be hailed on the street or at any number of cab ranks. They have an easy to use app (you can also book from a desktop computer) or simply ask the reception to call one for you.
Helpful local words
G'Day Mate – Hello!
Arvo – Afternoon
Hooroo – Goodbye
Crikey! - This word is an interjection or exclamation.
Ace! – Excellent! Very good!
The best hotel to stay in Gold Coast
Avani Broadbeach Gold Coast Residences offers a home away from home with top-of-the-line mod cons and comforts. All apartments feature fully equipped kitchens and private balconies with the views up and down the coast of either the Gold Coast high-rises or the surf —all very worthy of an Instagram post! Broadbeach is a location long-favoured by locals for its 17 km stretch of beach, epic surf, and upscale dining and entertainment options. The hotel is just a few minutes' walk from the G:link tram line that takes you up and down the coast, to Surfers Paradise, Southport and beyond.
Check the best hotel deals in Gold Coast.