Primary content
How to brew coffee at home with 20mL
While Indonesia's famous kopi luwak is certainly an acquired taste, locally-grown Robusta and Arabica beans are of excellent quality and have a more mainstream appeal. Avani asked Kevin James, a co-founder of 20mL, a Bali-based coffee lab with roasting facilities, a slow bar and co-working space, for coffee-making tips.
Can you tell us about 20mL?
Our name comes from our philosophy and passion for coffee; throughout our journey, we've learned that coffee is art, yet it is also very precise, from the roasting process to the time the coffee takes to bloom and brew. No detail is too small. We aim to work with Indonesian coffee farmers to develop their coffee beans, taking them to the next level.
20mL coffee is a joint passion project between Wiliam Edison, a well-known roaster equipment manufacturer and roasting expert, and me. My background is in hospitality as well as business, and I first got interested in the art of coffee-making when I joined Wiliam's Coffee Academy.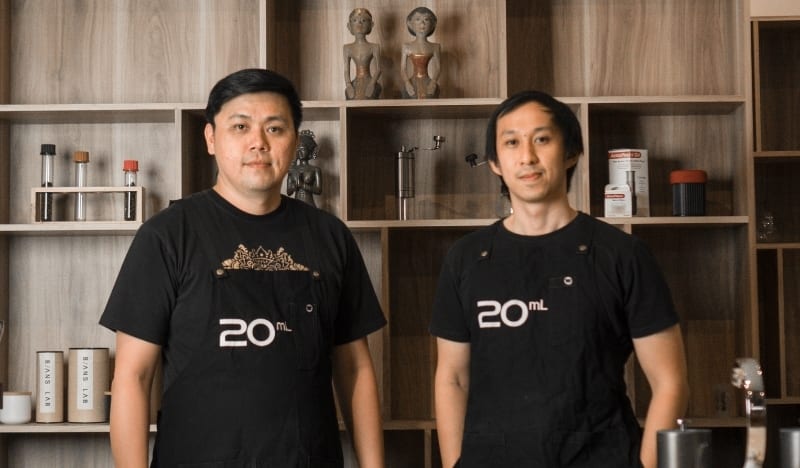 What are your tips for people that are just starting to learn about home brewing?
Start with investing in a good grinder, which is the key to unlocking coffee flavours since coffee is best to be kept in a bean stage and only ground when it's ready to drink to preserve the flavours.
Next, I would recommend determining what type of coffee you love, whether it is espresso or non-espresso based. For the latter, the drip of the French press is a good place to start. For the manual brew, I'd recommend a V60. For delicious clear and clean flavours with remarkably low acidity, try AeroPress. You can also explore the cold drip, which is less bitter, more delicate, and has a smoother taste.
Now you are ready to choose your coffee beans: single-origin or a blend that mixes together various aromas and tastes. I would personally recommend starting from a single origin and trying Kintamani beans known for its balanced acidity and clean aftertaste. Kintamani Arabica is cultivated in the vast highland of Kintamani, Northern Bali.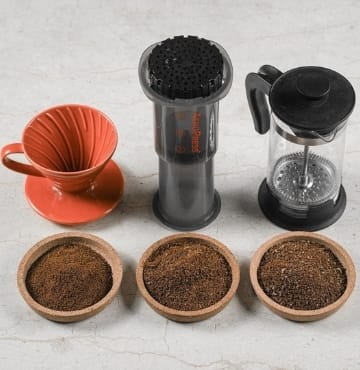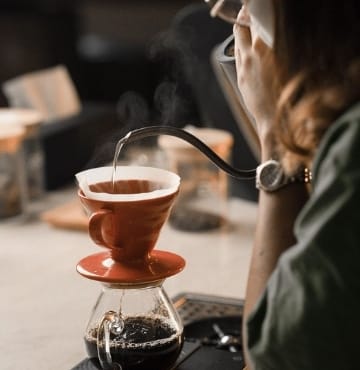 How to brew with V60 dripper
Can you share with us the basic manual brewing coffee guide?
Of course! Manual brewing is relatively easy.
Grind 18 grams of coffee beans and measure to precision, grind to medium-coarse.
Pre-wet the V60 with hot water and remove excess water; this will remove any paper taste. Note that you can reuse the paper filter if properly cleaned up to three times, which is more environmentally friendly.
Put the ground coffee into the V60, make a tiny hole in the centre of the filter.
Pour hot water (306 ml for 18 grams of coffee or a ratio of 1:17 in 2 or 3 stages) slowly from the centre and covering all the coffee, then let it sit for 30 seconds at least to allow the coffee to bloom and release any CO2. Then continue to pour hot water for around 2.5 minutes.
Japanese-style Ice Coffee
Is there any other recipe worth trying?
I'd recommend the Japanese-style iced coffee or coffee brewed hot directly onto the ice which we recently featured in our menu; this chills the coffee rapidly and preserves the flavours. Using heat is the best way to extract coffee's flavours and aroma, such as Kintamani Arabica's.
Grind 16 grams of coffee beans.
Boil the water until it reaches 89-92°C.
Place 120 grams of ice cubes in a coffee carafe, set a dripper cone on top. Line with paper filter and add 16 grams of ground coffee.
Start the timer, pour 30ml of hot water in a circular motion, and then let it bloom for 30 seconds.
Keep slowly pouring water until the scale reads 1.30ml.
Avani insider tips — Bali
If you're serious about your coffee, consider signing up for 20mL Academy's workshops covering the theory and practice of coffee-making and focusing on Indonesian bean varieties. Over three full days, you will learn all about growing, processing, sourcing, profiling, roasting, brewing and cupping (sensory testing) coffee. As a bonus, you will be presented with a formal certificate.